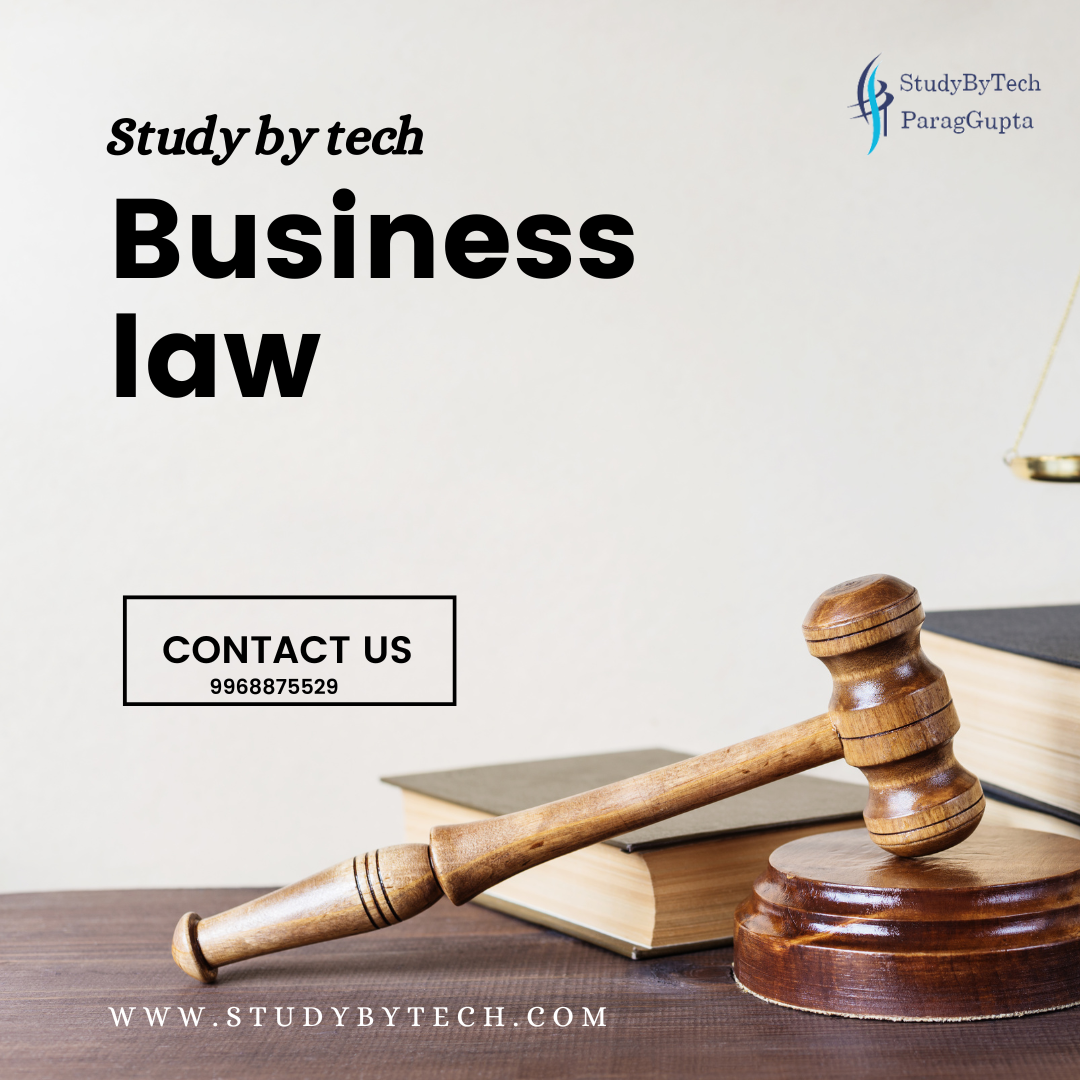 We will provide you a thorough overview of CA Foundation Business Law in this post. Everything from the fundamentals of business law to exam-winning ideas and techniques will be covered.
The entry-level test for the Chartered Accountancy programme is the CA Foundation exam. One of the topics on the CA Foundation test is business law. The Indian Contract Act, the Sale of Goods Act, the Partnership Act, the Companies Act, and other regulations that govern business in India are all covered in depth in the CA Foundation's Business Law study. We'll go through the crucial Business Law test subjects in this blog post.
What is Business Law?
The laws that control how firms conduct their affairs are known as business laws. Numerous subjects are covered by these laws, including as contracts, employment, intellectual property, and others. Any entrepreneur or business owner who wants to be compliant with the law must have a solid understanding of business law.
Importance of Business Law
Entrepreneurs and company owners need to understand business law in order to function within the legal system. Additionally, it aids in their avoidance of legal conflicts that might endanger the good name and financial stability of their company.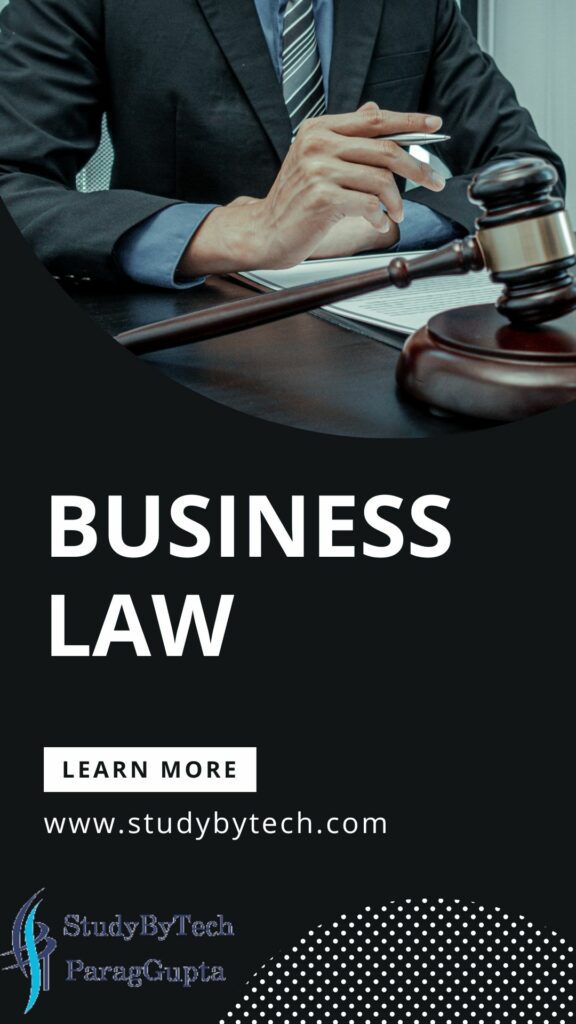 CA Foundation Business Law Syllabus
The Indian Contract Act, Sale of Goods Act, Partnership Act, Limited Liability Partnership Act, Companies Act, and other topics are all covered in the CA Foundation Business Law course.
Several themes are briefly discussed below:-
Indian Contract Act
The most significant piece of Indian legal precedent governing contracts is the Indian Contract Act of 1872. A contract is defined by the Act as an agreement that is legally binding. It includes information on issues like offer and acceptance, consideration, the ability to enter into a contract, free consent, and other relevant issues.
Sale of Goods Act
The Sale of Goods Act, 1930 governs the sale of goods in India. The Act defines a contract of sale as a contract by which the seller transfers or agrees to transfer the property in goods to the buyer for a price. The Act covers topics such as conditions and warranties, transfer of ownership, delivery of goods, and other related topics.
Partnership Act
In India, partnerships are governed under the Partnership Act, 1932. According to the serve, a partnership is a relationship between individuals who have decided to split the profits from a firm that they all, or any one of them, serve as agents for. The Act addresses issues such partnership agreements, partner rights and obligations, dissolution of partnerships, and other relevant issues.
An important component of legislation that controls how Indian corporations operate is the Companies Act. The Business Law paper on the CA Foundation exam covers this important topic.
The Companies Act of 2013 has been in effect since April 2014, replacing the earlier Companies Act of 1956. India's corporate formation, management, and dissolution are all covered by the 2013 Companies Act.
The establishment, administration, and dissolution of corporations are all covered in great detail under the corporations Act.
Tips to Ace Your CA Foundation Business Law Exam
Preparing for your CA Foundation Business Law exam can be overwhelming. Here are some tips that can help you ace your exam:
Understand the Concepts: Understanding the concepts is crucial to perform well in your exam. Make sure you comprehend the curriculum completely, and take the time to ask any questions you may have.
Practice Past Papers: Practicing past papers can give you a better understanding of the exam pattern and the types of questions that you can expect in the exam.
Create a Study Plan: Creating a study plan can help you stay organized and ensure that you cover all the topics in the syllabus.
Take Breaks: Taking breaks between your study sessions can help you stay focused and prevent burnout.
If you want to sit for the tests in May 2023, get the CA Foundation Law Study Guide in PDF format.
Chapter 1: The Indian Contract Act, 1872
Unit 1: Nature of Contracts
Unit 2: Consideration
Unit 3: Other Essential Elements of a Contract
Unit 4: Performance of Contract
Unit 5: Breach of Contract and its Remedies
Unit 6: Contingent and Quasi Contracts
Chapter 2: The Sale of Goods Act, 1930
Unit 1: Formation of the Contract of Sale
Unit 2: Conditions & Warranties
Unit 3: Transfer of Ownership and Delivery of Goods
Unit 4: Unpaid Seller
Chapter 3: The Indian Partnership Act, 1932
Unit 1: General Nature of a Partnership
Unit 2: Relations of Partners
Unit 3: Registration and Dissolution of a Firm
Chapter 4: The Limited Liability Partnership Act, 2008
Chapter 5: The Companies Act, 2013
Section B: Business Correspondence and Reporting
Chapter 2: Sentence Types, Active-Passive Voice and Direct-Indirect Speech
Chapter 4: Comprehension Passages
Chapter 6: Introduction to Basics of Writing
Chapter 7: Precis WritingChapter
Chapter 10: Formal Letters and Official Communication
CA foundation business Law 2023 ( 60 Marks)
| | | |
| --- | --- | --- |
| CA Foundation Section | CA Foundation Topics | Weightage |
| 1 | The Indian Contract Act, 1872 | 25%-35% |
| 2 | The Sale of Goods Act, 1930 | 20%-25% |
| 3 | The Indian Partnership Act, 1932 | 20%-25% |
| 4 | The Limited Liability Partnership Act, 2008: | 5%-10% |
| 5 | The Companies Act, 2013: | 15%-20% |
CA Foundation law Paper pattern 2023
Below is the latest CA Foundation Business Law Paper Pattern.
| | |
| --- | --- |
| CA Foundation law Paper Type | Subjective |
| CA Foundation Law No. of question in paper | Total 100 Question |
| CA Foundation law Exam duration | ( 2 Hours ) |
| CA Foundation Law Marks | 100 Marks ( 60 Marks Business Law) ( 40 Marks Business Correspondence and reporting) |
| CA Foundation difficulty level | Moderate |
If you want to pursue the Chartered Accountancy (CA) course at Study by tech an institute that leverages technology in its study programs, there are several options available. This institutes offer online classes, live webinars, and recorded video lectures that can be accessed from anywhere with an internet connection. To assist students in getting ready for the CA examinations, these institutes also offers online evaluation tools, practise exams, and digital study resources. Some institutions also employ AI-based learning technologies to offer individualised learning opportunities and monitor student progress.It has a solid history of student achievement and is approved by the Institute of Chartered Accountants of India (ICAI).
CA Foundation Business Law Classes Starts from 15 may. Join us through the link
Conclusion
Entrepreneurs and company owners should have a thorough grasp of CA Foundation Company Law. We really hope that this extensive tutorial has given you important insights into the topic. You'll be well on your way to passing your examinations if you use the advice and techniques we've given.
You may successfully study for your test and achieve academic success by paying attention to our advice and ideas. We are sure that our essay will be a useful tool for anybody trying to fully comprehend CA Foundation Business Law.
FAQ
Q: What is meant by business law?
A: Business law is a branch of law that governs the legal aspects of business and commercial transactions.A wide range of legal issues that emerge when conducting business are covered under the discipline of business law. These include a variety of topics, such as contracts, employment laws, intellectual property laws, tax laws, and securities laws. commercial law also includes rules and laws that govern the creation, maintenance, and dissolution of different commercial entities, such as partnerships, corporations, and limited liability companies.The primary goal of business law is to provide a legal framework that enables businesses to operate efficiently, effectively, and within the bounds of the law.
Q:What is business law and its importance?
Business law is the set of legal rules and regulations that govern business and commercial transactions. Its importance lies in providing a stable legal environment for businesses to operate within, protecting their interests and resolving disputes, and promoting fair and ethical business practices for economic growth and prosperity.
Q: What are the three types of business law?
A: The three main types of business law are contract law, tort law, and property law.
Contract law deals with legally binding agreements between parties, including terms and conditions of contracts, breach of contracts, and remedies for breach of contracts.
Civil wrongs, such as carelessness, fraud, and defamation, committed by one party against another are covered under tort law.
Property law governs the ownership and use of property, including real property (land and buildings) and personal property (movable objects). It includes laws related to sales, leases, and mortgages of property.
Q: What is the meaning of business law in BBA?
A: In BBA, business law refers to the legal principles and regulations that apply to business operations and transactions. It covers a wide range of topics, including contract law, tort law, intellectual property law, employment law, and commercial law. The study of business law in BBA provides students with a fundamental understanding of the legal framework that governs businesses and enables them to make informed decisions as future business leaders.
Q: What is the scope of business law?
A: Business law is a broad field that encompasses the legal aspects of business transactions and activities.
Contracts, sales, partnerships, companies, securities, intellectual property, and bankruptcy are just a few of the many topics covered.It is important for businesses of all sizes, as it can help them to avoid legal problems and to protect their interests.