Unlocking Success in the CA Inter Costing Exam with Parag Gupta Sir
5 October, 2023
0 Comments
---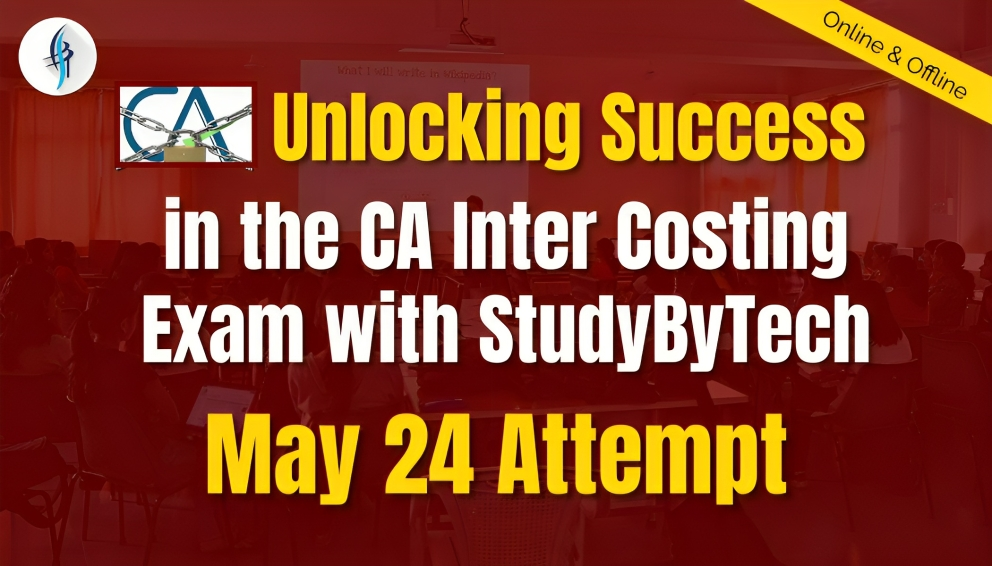 Introduction
In the process of becoming a chartered accountant, the CA Inter Costing Exam is a crucial turning point. It is the starting point for understanding the complex field of cost and management accounting. You need the best direction, top-notch study materials, and access to a plethora of resources if you want to succeed on this important exam. In this situation, StudyByTech can help by providing you with the best CA Inter Costing Exam answer and the knowledge of Parag Gupta Sir, India's top instructor for CA Inter SM & Costing. We'll go into detail in this blog post on how StudyByTech can help you do well on the CA Inter Costing Exam. Parag sir is one of the leading faculty for CA Inter Cost & SM and CA Final costing which is now SCPM for the new course whose 1st attempt will be on May 24.
The CA Inter Costing Exam: A Crucial Step
Your mastery of cost and management accounting concepts will be tested by the CA Inter Costing Exam, which is a component of the Chartered Accountancy curriculum. This exam is not only challenging but also holds immense significance in your journey to becoming a Chartered Accountant.
Why Choose StudyByTech?
1. Advice from Expert Parag Gupta Sir: One of the most crucial elements of your CA Inter Costing Exam preparation is the quality of your education. In the world of CA education, Parag Gupta Sir is a name that is linked with quality. He is India's top instructor for CA Inter SM & Costing thanks to his extensive experience (more than 20 years) and in-depth expertise. With his guidance, you'll receive insights and strategies to excel in the exam.
2. Top-Notch Study Resources: StudyByTech's study resources are expertly designed to thoroughly cover the CA Inter Costing syllabus. These resources are made to make complicated ideas simpler while giving you a strong foundation in cost and management accounting.
3. Flexible Learning Options: We are aware that each student has different learning requirements. We provide both offline and online classes as a result. You can choose the mode of learning that suits your schedule and preferences, ensuring a comfortable and effective learning experience.
4. Rich Resource Library: Access a sizable library of online resources, including lectures that have been recorded, practice tests, multiple-choice questions, and more, at any time and from any location. We also offer offline resources like printed books, which should be studied in addition to the ICAI study materials.
5. Curriculum with Structure: Parag Gupta Sir's classes adhere to a well-organized curriculum that presents all crucial subjects in a sensible manner. This approach ensures that you grasp each concept thoroughly, setting you on the path to success.
6. Engage in interactive sessions: where you may ask questions, get answers to your inquiries, and take part in conversations. This participatory method encourages a deeper comprehension of the material and improves your learning process.
Conclusion
In your journey to becoming a Chartered Accountant, the CA Exam is a significant milestone. It demands meticulous preparation and guidance from the best in the field. StudyByTech, in partnership with Parag Gupta Sir, offers you the perfect blend of top-notch study materials, expert guidance, and flexible learning options to ensure your success.
Parag sir is one of the pioneers for CA Inter Costing & SM, so if you are now going to start preparing for CA Inter group 2, try our CA Inter SM trial classes ( youtube link )and join our latest CA Inter SM (add product link) batch applicable for May 24 exams.
Once you pass the CA Inter exam and move on to the CA Final world, Parag Gupta sir is here to help you with one of the subjects: An online module that is self-paced CA Final SCPM. Beginning in the middle of December 2023, enroll in our newest class for CA Final SCPM (Strategic Cost & Performance Evaluation). This batch is applicable for the May 2024 attempt and is available in both Online and offline mode.
FAQ:

Q: How do I study for CA Inter costing?
Prioritize the simpler chapters first.
Study the study materials provided by ICAI in-depth.
Create notes and solutions for each chapter.
Always evaluate your level of preparation.
Take practice exams.
Don't depend solely on selective study.
The Syllabus must be finished before revision.
Q: Is CA Inter costing difficult?
If you have not adequately prepared for this, Paper 4 of the costing and management accounting section of the CA examinations might be rather challenging. To pass the exam with decent marks, you need to practice your practical skills a lot.

Q: Are CA Inter costing classes for May 2024 & Nov 2024 started?
Yes, Parag sir has started the batch for May 24 & Nov 24 attempt students. Join our latest batch for CA Final SCPM(Strategic Cost & Performance Evaluation) starting from mid-October 2023. Batch applicable for the May 24 attempt.
Q: Who is best for costing CA Inter?
A well-known professor among the students is CA Parag Gupta. CA Parag Gupta sir is the ideal pick if you're looking for the top instructors for the CA Inter Cost & SM and CA Final. His distinctive method of instruction ensures that each student fully comprehends the material. Each student receives individualized attention from him, which makes passing the exam simple.