CA Final Costing Books For New Course and Old Course
Parag Gupta Sir has Introduced his 14th Edition CA Final Books for CA Final Costing. You can buy these CA online books from our website. These CA Final Books are considered one of the best books for CA final classes. Parag Gupta sir has covered all the problems in such a simple way so students can understand the question easily.
So if any question related to the ICAI study material comes up in the exam, you can easily solve it. Parag Gupta has put all his experience and knowledge into these books so they can help students with their self-study while they prepare for the CA Final Costing exams. Our books are easily available on the Internet; you can purchase CA Books Online.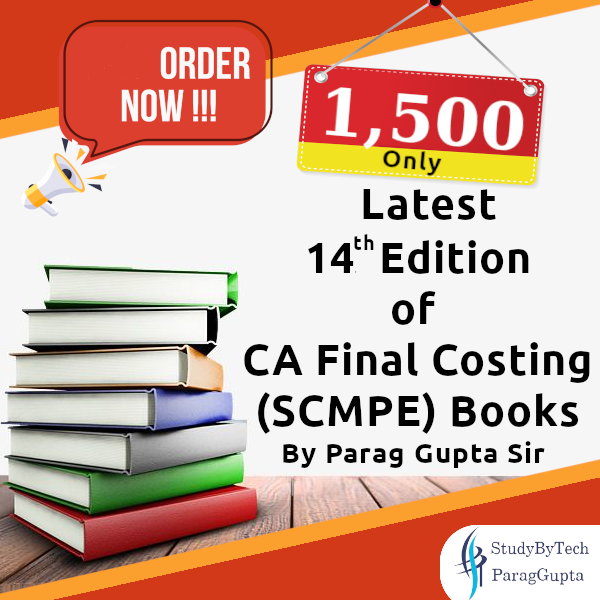 Features of 14th Edition Books of Ca Final SCMPE (New Course)
Parag Sir Provide 3 Books for CA Final Costing New Course.
The books are famous as self-study books and include all concepts and full syllabus as per the latest updated Study material of ICAI.
The Soft copy of the Handwritten class slides of Parag Gupta sir is also provided.
No Return policy.
Our CA Final Books is one of the Best CA Online Books for the CA Final Costing New Course.
Our CA Final Books contains all questions related to ICAI Study Material which helps students in their self-study.
Our CA Final Study Material is written in simple language so you don't have to face any difficulty to understand the concept.
The books cover all chapters with real-life examples and case studies.
Books should provide all answers to the chapter concept-wise and with an easy explanation so you can understand the chapter easily.
COMPLIMENTARY OFFER For Every Purchase of SCMPE Books
You will get a complimentary 30 hours of regular batch classes on the StudyByTech app. And you can watch any topic on the app from the full regular batch of classes.
To get this benefit, you need to follow the following steps:
Install StudyByTech app on Android/iOS mobile/ tablet;
Create your Username on it;
Mail us your username on contactus@studybytech.com with the following text:
30HOURSCMPE
A sample of the book, homework videos, handwritten class slides, and lecture-wise details, are available at the following websites:
DEMO Lectures of CA Final Costing by Parag Gupta Sir
For CA Final Costing Full batch (SCMPE):- Click Here
For CA final Costing Fasttrack Batch(SCMPE)- Click Here
Ways To Enroll To The CA Final Study Material
To promote vocal for local, kindly prefer to pay through UPI rather than card.

1. Through Payment Gateway attached to the website: Pay through all Indian Debit Cards, Credit Cards, and Netbanking (except American Express);

2. Through Direct Bank Transfer: Pay through popular UPI apps such as Bhim, PayTm, Google Tez, Freecharge, Mobikwik, etc. & e-mail us payment proof at contactus@studybytech.com. After the payment done in our bank account, you are requested to mail the TRANSACTIONAL PROOF to our email ID contactus@studybytech.com, with your StudyByTech Username & Registered email ID.

Also, you can transfer fees in the below-mentioned bank account.
Bank Account Details
| | |
| --- | --- |
| Name of Account Holder | SSV STUDY-BY-TECH PRIVATE LIMITED |
| Account number | 201001343244 |
| Bank Name | IndusInd Bank |
| Account Type | Current Account |
| Branch Name | Preet Vihar Branch |
| Branch Address | C-61, Preet Vihar Vikas Marg, New Delhi-110092 |
| IFSC / RTGS Code | INDB0000031 |
| UPI Code | studybytech@indus |
For any Enquiry Contact Us
FAQ of CA Books Online
Q. How many hours should I study for CA final course?
Ans. If you want to crack the CA Final Exam so you have to work hard and manage to time according the chapters. Students are advised to study approx 10-12 hours a day for better result.
Q. What are are basic tip for CA Final self-study?
Ans. If your studying by your own just follows the advice given below in your daily schedule for better result.

1. Prepare a time table
2. command on the calculator
3. Do practise MTP, RTP, and past exam papers.
4. Take a little break between studies and do something entertaining.
5. Make notes
6. Avoid social media
7. Do revision three times a day

Q. Can I clear CA Final in first attempt?
Ans. Yes, nothing is impossible and it depends on how passionately you want to become a CA. Clearing CA Final in first attempt is not that easy but with hardwork, proper coaching, and with good preparation anyone can easily crack CA final course with good marks.
Q. How many marks are required to clear CA Final?
Ans. Student will be declared pass in CA Final when he/she score minimum of 40% marks in each single subject and minimum of 50% marks in total subject in single group or both groups.
Q. How to prepare in first 3 months?
Ans. Students should cover their theoretical part in first 2 months. It will help to strong your basic and to have a better understanding on concepts. It will also make the practical part easier. And the third month is for practical part.
Q. Is ICAI Study Material enough for CA Final?
Ans. Certainly, the study material given by ICAI is enough to pass CA Final exams. Examination papers are almost every time come fro the ICAI study material. Si it is advised to never ignore ICAI study material during your preparations. Coaching from prestigious teacher like Parag Gupta sir's books & Classes are always based on the ICAI syllabus & ICAI Study Material.
Q. What are CA Subjects?
Ans. Below are the subjects in each level of the CA Course as per the new scheme:-

1. Principles and practices of accounting
2. Business Law & Business correspondence and reporting
3. Business Mathematics & Logical Reasoning and statistics.
4. Business Economics & Business and Commercial Knowledge.

CA Intermediate ( Group 1)
1. Accounting
2. Corporate Laws & Other Laws
3. Cost & Management Accounting
4. Taxation
(Group 2)
5. Advanced Accounting
6. Auditing Assurance
7. Enterprise Information system & Strategic Management
8. Financial Management & Economics for Finance

CA Final (Group 1)
1. Financial Reporting
2. Strategic Financial Management
3. Advanced Auditing & Professional Ethics
4. Corporate Law & Economic Law

(Group 2)
5. Strategic Cost Management & Performance Evaluation
6. Electives
7. Direct Tax Laws & International Taxation
8. Indirect Tax Laws



Q. How many people pass CA in first attempt?
Ans. It is a promising but challenging position to become a CA in India. Studies show that in the first attempt, around 45-50% applicants clear the ICAI test, making it one of the most competitive exam to clear.
Q. How can i become a CA Topper?
Ans. IPCC Exam candidates should prepare to study for at least 10-15 hours a day in order to rank in the CA.