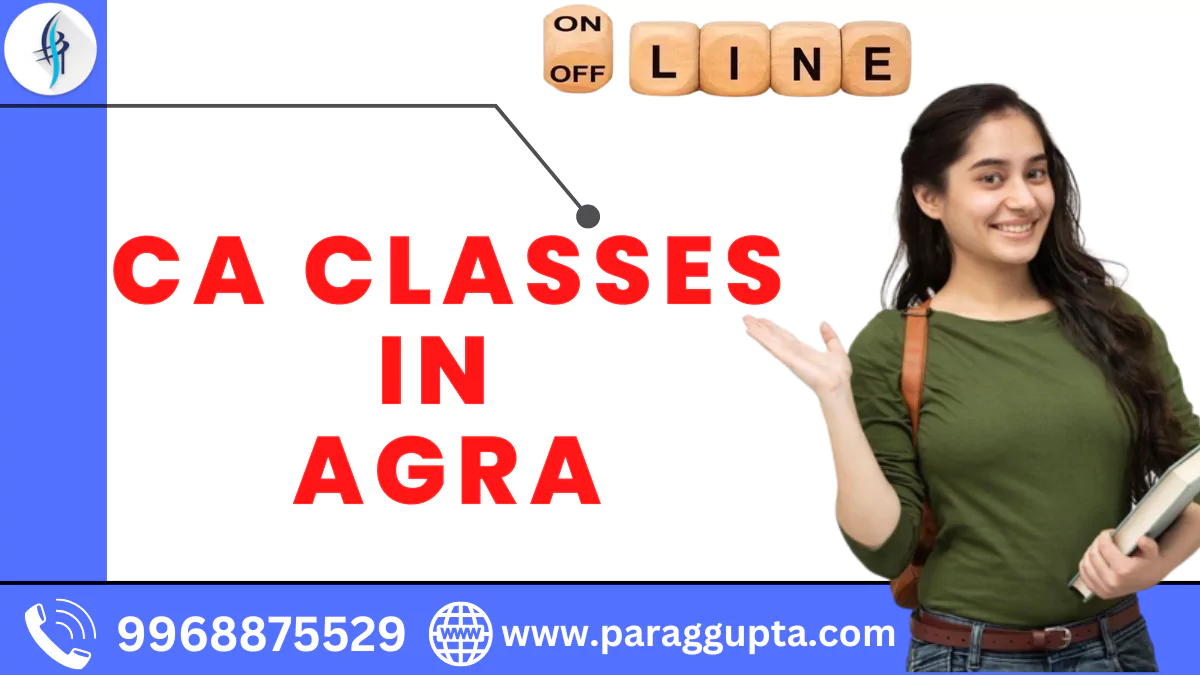 In the bustling world of commerce and finance, becoming a Chartered Accountant (CA) is a dream for many. To achieve this prestigious qualification, it's crucial to receive the right guidance and education. In Agra, CA coaching classes play a pivotal role in shaping the future of aspiring CAs. This article sheds light on the best CA coaching classes in Agra, in online mode. Although you can also join our OFFLINE classes in Delhi. Students from all over India join our offline Face to face classes in Delhi, Laxmi Nagar. For any further details, call us at +91 9968875529 or mail us at contactus@studybytech.com.
Introduction
Why Choose StudyByTech for CA Coaching?
StudyByTech has earned the distinction of being India's number-one choice for CA coaching. With a rich legacy of success, StudyByTech is synonymous with excellence in CA education. Here's why it should be your go-to destination for CA coaching in Agra:
Expert Guidance by Parag Sir
At the heart of StudyByTech is Parag Gupta, the key founder and visionary. Parag Sir's guidance and motivation have propelled countless students towards success. Whether you're starting at the Foundation level or preparing for CA Inter or CA Final as per the new syllabus applicable for May 24 CA exams onwards, Parag Sir's expertise is your beacon.
Parag Gupta, often regarded as the finest faculty for CA students, has been a guiding light in the realm of CA education since 2003. With two decades of unwavering dedication and expertise, he has played an instrumental role in shaping the dreams of countless aspiring Chartered Accountants. Parag Gupta's distinction as an ex-examiner further amplifies his influence, as his deep understanding of the examination process has proved invaluable in helping students excel in their CA exams. Over the years, he has been a source of inspiration and knowledge, paving the way for students to achieve their CA dreams with confidence and competence.
Parag Gupta's mentorship, delivered through a team of seasoned experts, is truly exceptional, especially at the Foundation level. His personalized approach to each student's journey is nothing short of remarkable. Parag Sir's teaching extends to CA Inter Costing and CA Inter SM, as well as CA Final Costing for the new course designed for the May 24 attempt onwards.
StudyByTech and Parag Gupta classes have etched their names in the success diaries of numerous accomplished CAs. The institution's commitment to quality education is reflected in the achievements of its students.
CA Coaching Classes Offered
StudyByTech and Parag Gupta classes offer a comprehensive range of CA coaching classes, catering to different levels of the CA journey:
The StudyByTech Advantage
Studying at StudyByTech comes with a multitude of advantages, including:
Interactive Online Classes
Comprehensive Study Material
Mock Tests and Assessments
Interactive Online Classes
Why Online Classes?
In today's digital age, online classes have become the preferred mode of learning. StudyByTech's online CA coaching classes in Agra offer flexibility and accessibility, ensuring that you can pursue your CA dreams without geographical constraints.Subjects and marking scheme in CA Foundation Course?
You can also join us in OFFLINE mode in Delhi. Students from all over India join our offline Face-to-face classes in Delhi, Laxmi Nagar. For any further details, call us at +91 9968875529 or mail us at contactus@studybytech.com.
Student Testimonials
Don't just take our word for it. Here are a few testimonials from our satisfied students:
Q. 1- What courses are available in 'Studybytech'?ew my license?
A-1 'Studybytech' currently has a vast number of CA, CS, and CMA exam preparatory courses for students to choose from, along with a learning platform of their own choice. Students can learn from the CA training institute located in Laxminagar or choose from Pen Drive/Google Drive CA classes, online video lectures, or Mobile apps. Students get a quality education here with the best facilities for CA in Agra.
Q.2- What is a chartered accountancy course?
A.2- Chartered Accountancy course-related image The professional program known as "Chartered Accountancy," or simply "CA," provides students with the technical skills they need to handle the finances, accounting, and taxation of any type of corporation or organization.
Q.3- How many years is the Chartered Accountancy course?
A.3- Because there is no upper age limit for the Chartered Accountancy course, students can obtain the professional certificate at any point in their lives. The Chartered Accountancy course is expected to take 4.5 years to complete.
Q.4-Should we take CA Foundation online class?
A.4-Most efficient education: Rarely do students miss class. Zero absences. Beyond Age and Boundaries: accessible to anyone at any time and from any location: For CA final students with unpredictable, unplanned, or unexpected outstation audits, international students, and students from far-flung locations, it's a blessing.
Q.5-Does ICAI provides free CA foundation online class?
A.5-CA Online Class, The Board of Studies of the Institute of Chartered Accountants of India (ICAI) has announced free virtual coaching classes for CA Foundation, Intermediate, and CA Final May 2024 examinations.
Q.6-Which is better for CA Foundation: an online class or an offline class?
A.6-By offering lectures and seminars at the students' request and convenience, online CA Foundation class address this issue. The student can access his class whenever he wants to and learn. Online courses are therefore preferable to traditional ones. Otherwise, taking coaching classes in offline/ online mode can maintain your study schedule and regular tests & doubt sessions can help you on a proper path to get success in exams.