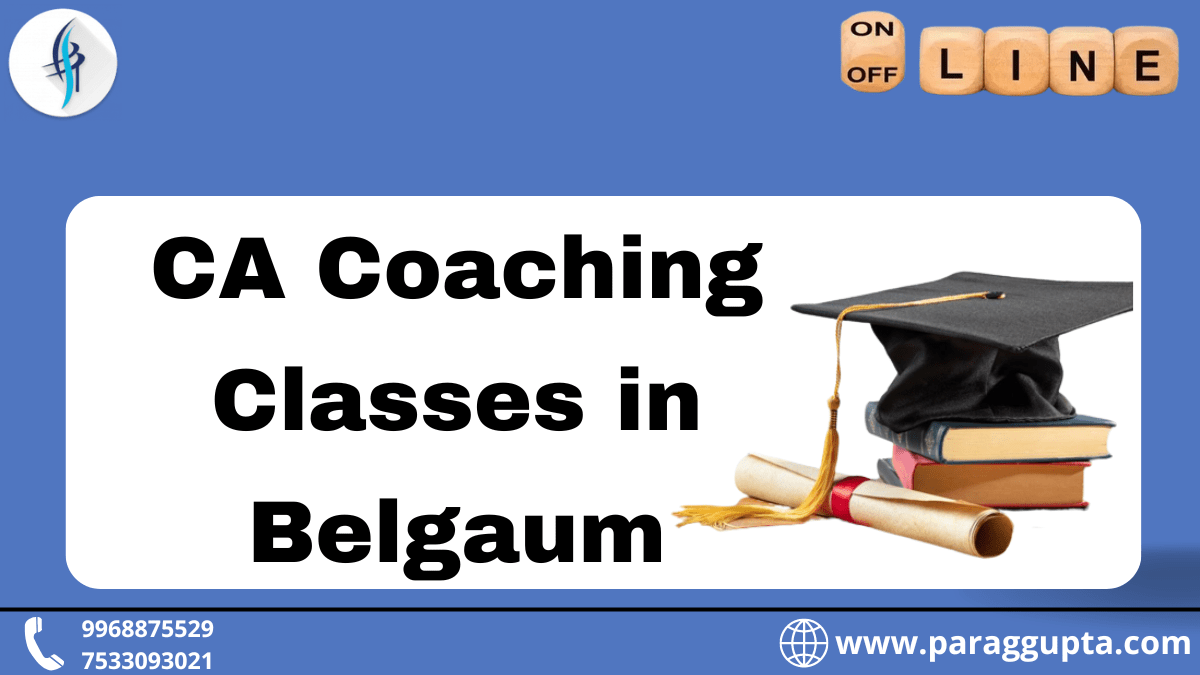 Given that the CA Foundation course is the prerequisite exam for the CA course, it is clear that there is a growing demand for Chartered Accountancy and Chartered Accountancy Foundation course coaching classes and institutes throughout India. You must enroll in the top coaching classes and institutes for the CA Foundation course if you want to pass this exam. Don't worry, 'Classes at Parag Gupta' offers CA Foundation Course classes with a qualified team.
Here, we take care that our students shall get a good environment to study & shall flourish well in future. For this, we try to also develop students' overall personality through these courses so that they won't struggle in life.
CA Classes available at Parag Gupta Classes
---
| | |
| --- | --- |
| Courses | Details |
| CA Foundation Full Course- Click here | Best recommended classes with well-experienced teachers. |
| CA Final Costing(SCMPE) Full batch- Click here | Fully updated & latest batch with access to all concepts & practical parts in detail, with 3 years of validity. |
| CA Final Costing(SCMPE) Fasttrack Batch- Click here | Full syllabus coverage with both theoretical & practical knowledge with 1 year of validity. |
FROM WHERE TO Take CA Foundation Classes?
It's very difficult for a student to pass the CA Foundation course without any coaching institute and an experienced counselor, but the ICAI will send you study materials after you sign up for the course so you can get ready for exams on your own as well. 'Parag Gupta Classes' is considered India's best coaching institute for CA Classes. Our instructors can provide you with both theoretical and practical knowledge because they are highly qualified and experienced in both the corporate and teaching worlds.
Mode of Classes available at 'Parag Gupta Classes' for CA Foundation:
| | |
| --- | --- |
| States | Mode of CA Foundation Classes |
| Delhi | Face to face |
| | Online mode & offline mode in Mobile app & laptop mode. |
| All states other than Delhi | Parag Sir is also providing virtual classes in Online & Offline mode. |
About the CA Foundation course:
WHAT IS THE CA FOUNDATION COURSE EXAM?
Under the CA Foundation Scheme, the ICAI administers the exam for the CA foundation course.
To enroll in the course of study for chartered accountants, this is an entrance exam that can be given after the Class 12 exams.
Twice a year, this CA Foundation exam is offered.
To know more about Chartered Accountancy course Registration, its Syllabus & exam dates, click here
WHO CAN PURSUE THE CA FOUNDATION COURSE?
Whether or not students are from the commerce stream, candidates can enroll in the CA Foundation course after completing their 12th-grade education.
HOW TO APPEAR FOR THE CA FOUNDATION EXAM?
The exam for the CA foundation course is offered twice a year, in May and November. Candidates must register themselves with the ICAI (Institute of Chartered Accountants of India) four months prior to the exams, i.e., if you want to appear in the May exam, you must do so by the end of December; or if you want to appear in the November exam, you must do so by the end of June.
After taking the 12th-grade exams, a candidate can sign up for the CA foundation exam, but they are only qualified to take the test once they have passed the 12th grade. Therefore, you may register provisionally before receiving your 12th-grade results.
To know about the full Syllabus of the Chartered Accountancy course click here.
Subjects and marking scheme in CA Foundation Course?
PAPER NO.
Subject
Max. Marks
Exam Type
Min. Marks
1
PRINCIPALS AND PRACTICES OF ACCOUNTING
100
WRITTEN
40
2
A. BUSINESS LAW
60
WRITTEN
40
B. BUSINESS CORRESPONDENCE AND REPORTING
40
WRITTEN
3
A. BUSINESS MATHEMATICS AND LOGICAL REASONING
60
OBJECTIVE
40
B. STATISTICS
40
STATISTICS
4
A. BUSINESS ECONOMICS
60
OBJECTIVE
40
B. BUSINESS AND COMMERCIAL KNOWLEDGE
40
STATISTICS
In order to pass the CA Foundation course, a candidate must receive at least 40% on each exam, with a minimum 50% overall score.
The best CA classes
'Parag Gupta Classes' started in December 2010, and have built their coaching empire up to the sky levels in the CA world. Being the best CA coaching class, 'Parag Gupta Classes' has been serving CA students for the last 2 decades now.
Also, we ensure that all doubts of students are taken up properly by our faculties. This is the only reason that mostly all rank holders & top scorers are our students.
The primary intention of 'Parag Gupta Classes' is to help the students to make their dream come true for becoming CA.
'Parag Gupta Classes' aims at providing exemplary quality study material curated by professionals.
'Parag Gupta Classes' provides quality education with CA Online Classes. It is having a discussion section for better student & teacher communication & making it easy for teachers & students to connect.
FAQ
Q.1-when ca foundation started?
A.1-After clearing the class X exams, a candidate can now provisionally enrol in the ICAI foundation course thanks to an amendment to the Chartered Accountants Regulations, 1988 that was approved by the Indian government.
Q.2-how to apply ca foundation exam?
A.2-First Step: Pass 10+2 and then enrol with the Board of Studies (BOS). Register by December 31 for the CA Foundation May Session and by June 30 for the November Session. Third Step: Submit your CA Foundation application by the deadline. Attend the Foundation exams in November or May as the fourth step.
Q.3-where to check ca foundation result?
A.3-Visit the ICAI website at icai.nic.in. On the homepage, choose the link for CA Foundation Result 2022. Enter your login information, then click "Submit." Your outcome will be shown to you on the screen.
Q.4-where to fill ca foundation exam form?
A.4-For the December 2022 session, the ICAI had made the CA Foundation test application available online at icaiexam.icai.org. The CA Foundation test application cost is Rs. 1500. The CA Foundation exam has no exempted questions.