Elevate Your CA Inter Journey with StudyByTech: Your Comprehensive Guide
25 October, 2023
0 Comments
---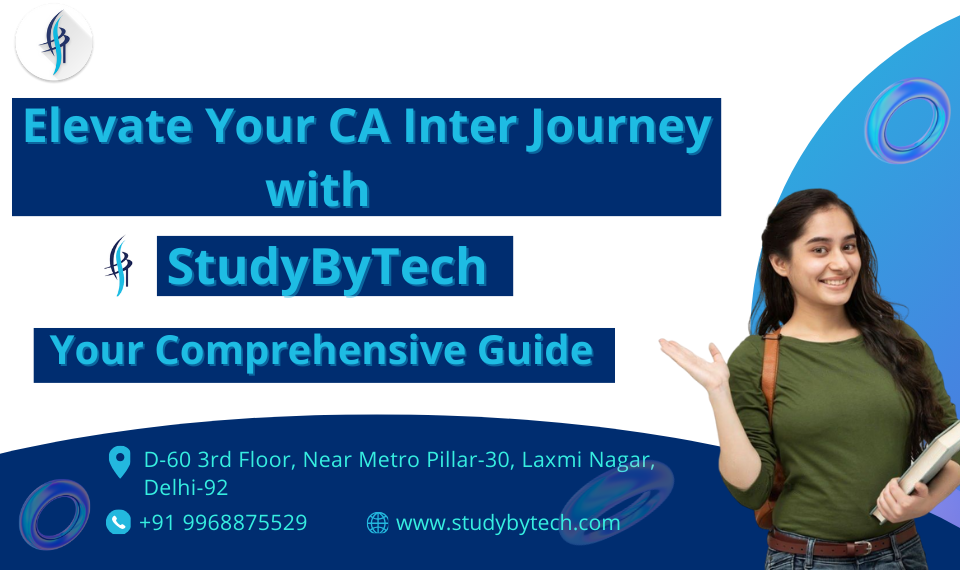 The journey to becoming a Chartered Accountant in India is a rigorous yet rewarding path, and the CA Inter May 2024 (Chartered Accountancy Intermediate) level is a pivotal milestone in this pursuit. In this article, we aim to provide you with a comprehensive understanding of CA Inter's significance and how you can achieve excellence with the help of StudyByTech's CA Inter classes, Join us for more updates on our WhatsApp channel
Demystifying CA Inter
The CA Inter level, the second stage of the Chartered Accountancy program by the Institute of Chartered Accountants of India (ICAI), is a comprehensive program that delves deeper into accounting, taxation, finance, and various facets of financial management. This level comprises two groups, each consisting of four subjects:
Group I:
Accounting
Corporate and Other Laws
Taxation
Group II: 
              Cost and Management Accounting
            Auditing and Assurance
            Strategic Management & Financial Management
CA Inter acts as a bridge between the foundational knowledge of the CA Foundation and the advanced expertise required for the CA Final level.
The Significance of CA Inter
Paving the Way for CA Final: Successful completion of CA Inter is the stepping stone to the CA Final level. The knowledge and skills acquired here are fundamental for success at the advanced stage.
Real-World Application: The subjects taught at this level are immediately applicable in practical scenarios. Be it managing financial transactions, handling taxation matters, or ensuring corporate governance, CA Inter equips you with the expertise to navigate real-world challenges.
Expanded Career Opportunities: Achieving the CA Inter designation opens up a world of career possibilities. From prestigious roles in accounting firms to positions in corporate finance, your options are vast and varied.
Professional Credibility: The CA Inter title signifies your commitment and expertise. It is recognized and respected throughout the industry, enhancing your professional credibility.
Why Choose StudyByTech for CA Inter Classes
StudyBytech is your trusted partner on the path to success in CA Inter. Our commitment to providing top-notch CA Inter classes stems from our passion for education and our dedication to our students. Here's why StudyBytech is your ideal choice:
1. Expert Faculty: Our team of experienced and highly qualified faculty members ensures that you receive the best education possible. They guide you through the curriculum, offering valuable insights and support.
2. Comprehensive Study Material: We provide authorized study material that aligns with ICAI guidelines. It covers the syllabus in a thorough and effective manner, facilitating in-depth understanding.
3. Interactive Learning: Our classes are designed to be engaging and interactive. We believe in the power of two-way communication and encourage questions and discussions.
4. Regular Assessment: We offer regular assessments, including mock tests and practice questions, to help you gauge your progress and prepare you for the exams.
5. Flexibility: StudyByTech understands the importance of flexibility in your learning journey. Our classes are designed to accommodate your schedule, making it easier for you to balance your studies with other commitments.
Elevate your CA Inter journey with StudyByTech and unlock your potential to excel in this challenging yet rewarding phase.
In conclusion, the CA Inter level is a critical phase on your path to becoming a Chartered Accountant. StudyBytech is here to support and guide you throughout your CA Inter journey, ensuring you have the knowledge and skills necessary for success. Embrace this journey with confidence, and success will be yours.
Read more: ICAI
Tags:
CA Inter classes