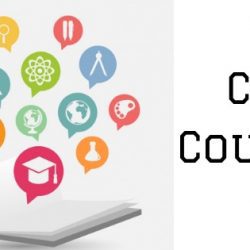 In India "CA Course" (Chartered Accountant) is one of the Challenging & Respectful Field in Accounting. Chartered accountancy was established in 1854 in Britain. In India, CA Course is coordinated by The ICAI (Indian Chartered Accountants Institute).
Chartered Accountant Course Details
Chartered Accountancy Course contains 3 Levels:
CPT (Common Proficiency Test)
IPCC (Integrated Professional Competence Course)
FC (Final Course)
Chartered Accountant Course Eligibility
The student is eligible for CA Course CPT Registration after the 10th, but they can attempt the CPT exams after Class 12.
Any Stream Student- Arts/Commerce Science can apply for CA Course.
Commerce Student requires a minimum of 50% marks in the class 12 exam in order to be eligible for CPT.
If Any Student Cleared the CPT, the Candidate becomes a member of ICAI.
Source: Wikipedia
CPT (Common Proficiency Test)
CPT is the first level of the CA Course.
syllabus subjects are-
Fundamentals of Accounting
Mercantile Laws
General Economics
Quantitative Aptitude
After Clearing the CPT Exam, Student Have to enrol for the ATC.
Candidates who had formerly registered for the Intermediate/ Intermediate (Professional Competence) programme/ Professional Education (Course-II) can enrol for ATC.
IPCC (Integrated Professional Competence Course)
If You apply for the IPCC programme, so the candidate must have to score at least 100 out of 200 marks in CPT
Registration for IPCC must be done nine months prior to the first day of the month in which the exams will be conducted.
The Total No of Subjects are 7.
You need to get at least 40% marks in each subject.
While pursuing IPCC, the Candidate shall complete 35 hours of the orientation program and 100 hours of ITT program (Information Technology Training -ITT MS Office programs, ICAI CA software, Project Etc.)
IPCC syllabus includes the following subject-
Group 1-
Accounting
Business Laws, Ethics and Communication
Cost Accounting and Financial Management
Taxation
Group 2-
Advanced Accounting
Auditing and Assurance
Information Technology and Strategic Management
FC (Final Course)
In the CA Final Course, Practical Knowledge is very important to clear the exams. Due to this, CA final course includes 3 years of compulsory Practical Training in the firm.
CA Final Course Subjects are-
Group 1-
Financial Reporting
Strategic Financial Management
Advanced Auditing and Professional Ethics
Corporate and Economic laws
Group 2-
Strategic Cost Management & Performance Evaluation
Elective Paper contains certain topics out of which students need to select only 1 topic-Risk Management/International Taxations/ Economic Laws/ Financial Services & Capital Market/ Global Financial Reporting standards/ Multidisciplinary Case-studies
Direct Tax Laws and International Taxation
Indirect Tax Laws
EXAMS:
Exams are conducted group-wise, so ICAI is providing the chance to students to give exams group wise/ both groups together so that students shall get ample time to study and revise the syllabus.
Every year, ICAI conducts exams twice, in the month of May and November.
---
For any query related to Batches for subject CA Final Costing classes provided by Parag Gupta Sir, feel free to contact us at the following address/phone no./email id. Kindly call us or visit us at the office timings i.e 9:00 a.m to 7:00 p.m (except Sunday and public holiday), we will be happy to help you. Contact Us
Read,
[table id=6 /]
Frequently Asked Question (FAQ's)
Q. Can i clear CA Final in 3 Months?
Ans. Yes, if you have 3 months in your hand to prepare for the exam so don't worry, Start preparing with group-wise, make a time table and distribute every concept and chapter according to the time table. Solve MTPs, RTPs, and previous exam paper, they will give you an idea which type of questions comes in the exam. Make your handwritten notes they will help you revise the important topic before exam.
Q. Can i pass CA Final in 2 months?
Ans. Work Smartly by going through Mock test papers, RTPs, and past exam papers. Also do not take both groups for preparation. Take one group at a time. The most important thing is not to panic. Study 10-12 hours a day utilise your time in a positive manner rather than just worrying about exams. Take proper 7 hours sleep.
Q. How can i get CA Final Rank in 3 Months?
Ans. Successful people same things but differently, Always mark or high the important concepts which you were not able to comprehend or the parts which are important for exams during your first time. This process makes your first revision easy. Go through the old exam papers and mock test paper to get an idea about the questions. Take proper sleep and try to complete your whole syllabus before time so you can have enough time for revision.
Q. How many hours a CA student sleep?
Ans. CA Student should take a proper 7 hour sleep and eating healthy and nutritious food helps in maintain the concentration.
Q. Is CA difficult Than IIT?
Ans. Both exams are from different field and it is not good to compare both them. Both have different study structure and difficulties. CA is a professional course having overall 15-18 pass percentage where on other side, IIT JEE is an entrance exam for undergraduate courses. There is no comparison between them.
Q. What is the Salary of a CA Topper?
Ans. Year Salary Package
2012 Rs. 25,50,000
2013 Rs. 30,70,000
2014 Rs. 30,30,000
2015 Rs. 35,20,000
2016 Rs. 14,60,000
Q. How can i become a CA
Ans. There are three levels in CA Course and students have to clear each clear then they will become a Chartered Accountant.

Levels in Chartered Accountant Course:-
1) CA Foundation is an entry level of CA course.
2) CA Intermediate, It is the second level in the CA Course, After clearing CA Foundation student needs to apply for this course.
3) CA Final, Last but toughest, This is the third and final level, after clearing inter-student have to register for the CA Final Course.
Q. Can a average student crack CA?
Ans. Yeah, An average student can definitely study CA or CA can also be pursued not just by an average student or below average student. All mind games are tough and quick, If you can control your mind then in this whole world nothing is impossible for you my friend.
Q. Can i do CA at the age of 40?
Ans. For CA, Consider age as just number. There is no maximum age criteria to enter or exit from completing CA course. you shall have the zeal to study and if you can give your full dedication to this course, you can do it at any age. CA preparation can never be considered as part and shall not to be neglected, and a proper time table and dedicated time shall be fixed from the beginning of the course.