CA Foundation Online Classes | Everything You Need to Know
10 April, 2023
0 Comments
---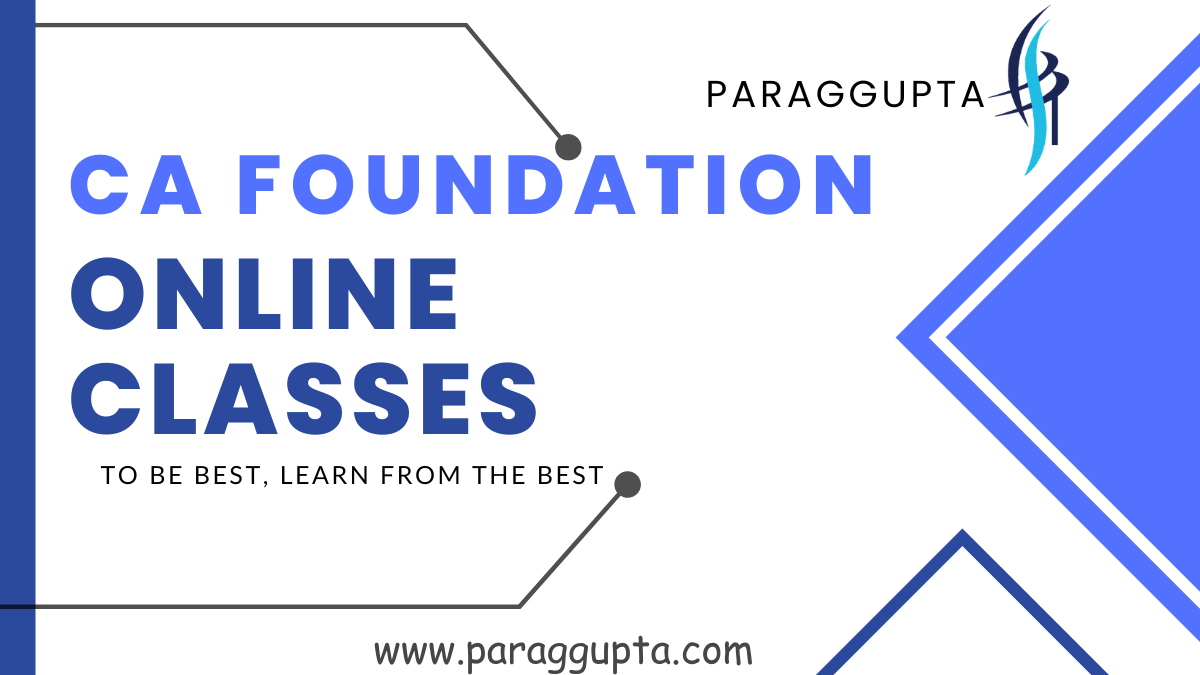 Introduction:
The ICAI CA Foundation Course in Chartered Accountancy (CA) is the first step towards becoming a chartered accountant in India. The course is intended to give students a solid foundation in accounting, business law, economics, and other related subjects. CA Foundation classes were traditionally held in person, but with the advancement of technology. Online classes have become an increasingly popular option. We will go over everything you need to know about CA Foundation online classes in this article.
What are CA Foundation Online Classes?
CA Foundation Online Classes are internet-based courses that make use of video conferencing technology, learning management systems, and other digital tools. Students in these classes can attend lectures, participate in discussions, and complete assignments from any location with an internet connection.
Online classes are more flexible and convenient than in-person classes because students can learn at their own pace and on their own schedule
How do CA Foundation Online Classes Work?
CA Foundation Online Classes typically deliver course materials, assignments, and quizzes via a learning management system (LMS). Students can use any device with an internet connection, such as a computer, tablet, or smartphone, to access the LMS. Pre-recorded lectures, live video lectures, and discussion forums where students can ask questions and interact with their peers are common features of an LMS.
To conduct live lectures and discussions, online classes may also use video conferencing tools such as Zoom or Google Meet. Students can use these tools to see and hear their instructor in real-time, as well as participate in group discussions. One-on-one tutoring or coaching may also be available in online classes via video conferencing or chat tools.
Benefits of CA Foundation Online Classes
There are several benefits to taking CA Foundation online classes:
Flexibility: Students can learn at their own pace and on their own schedule thanks to online classes. Students can watch lectures and complete assignments whenever they have time, which is especially beneficial for students who work part-time or have other obligations.
Convenience: Because online classes can be accessed from anywhere with an internet connection, students are not required to commute to a physical classroom. This saves students time and money on transportation while allowing them to study from the comfort of their own homes.
Personalized Learning: One-on-one tutoring or coaching is common in online classes, allowing students to receive personalized feedback and support. This is especially beneficial for students who struggle with specific subjects or topics.
Access to a Wide Range of Resources: Pre-recorded lectures, discussion forums, and digital textbooks are all common features of online classes. This gives students access to a wide range of learning materials and study resources.
Choosing the Right CA Foundation Online Class
When choosing a CA Foundation online class, there are several factors to consider:
Look for classes offered by reputable institutions or instructors with a track record of success.
Course Materials: Make certain that the online class includes comprehensive course materials such as pre-recorded lectures, live lectures, and study resources.
Look for classes with flexible schedules that allow you to learn at your own pace.
Support: Select a class that provides one-on-one coaching or tutoring as well as support via discussion forums or other means.
Frequently Asked Questions
Q: Are online classes as effective as in-person classes?
A: Yes, as long as they are well-designed and implemented, online classes can be just as effective as in-person classes.
Q: How long does it take to complete the CA Foundation course online?
A: The CA Foundation course typically takes six months to complete, but this can vary depending on the pace of learning of the individual student.
Q: How much do CA Foundation online classes cost
A: CA Foundation Online Classes vary in price depending on the institution or instructor who offers the course. Some classes are free, while others can cost thousands of rupees. Before making a decision, it is critical to conduct research and price comparisons.
Furthermore, some classes may offer payment plans or financial aid to help make the course more affordable. It is critical to remember that the cost of the course should not be the only consideration when deciding which class to take; the quality of the course and the reputation of the institution or instructor are also important factors to consider.
Tags:
ca foundation
,
ca foundation online