CA Training
3 October, 2019
0 Comments
---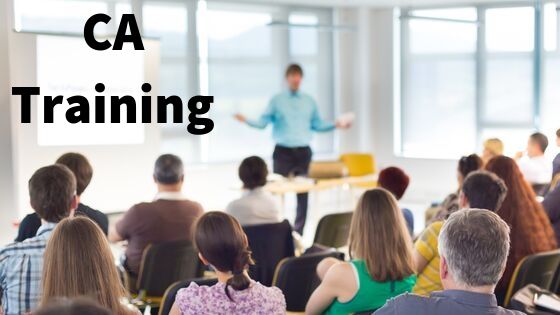 CA Training
Training in CA course – practical, practical, ICITSS and articles training
Most of the students feel that there is only one CA training course in the form of Articleship. However, apart from articles in the CA course, from time to time different training programs are in the form of ICITSS, AICITSS, and industrial training. In this article today, we will give you complete information about all these training programs, which will prove very useful for the students taking the CA course.
CA Training Course
ICITSS Training
Industrial Training (optional)
ICITSS Training in CA Course
This first training program in CA course is named ICITSS (Integrated Course on Information Technology and Soft Skills). Under this course, information technology training and Orientation Traning each have 15 days training.
CA Training time
Students can start ICITSS training program after registering for CA Intermediate course and before applying for the articles.
The motive behind providing ICITSS training to CA students is to mold future accountant chartered accountants into a true professional by nurturing their skills in various fields as well as their honesty and transparency in various fields. Is
ICITSS Training fees
The fee for the Information Technology Traning has been set at 6500. And the fee for Orientation training has been fixed at Rs 7000. In this fee-only, students will have the facility of course-related material and tea breakfast during training.
Articleship Traning in CA course
Students who are doing Chartered Accountancy course should also be ready for 3 years of Articleship Training. The real purpose of 3 years of articleship in the CA Training course is to prepare CA students as experienced, well-informed and professional.
When will it start
Students coming from the general route can apply for registration in articleship after passing both groups or one group of CA Intermediate. But before starting the articleship, they must also complete the training program of ICITSS.
However, students who came from direct recruitment after doing Graduation or Post Graduation can apply for articleship with registration in CA Intermediate and after completing ICITSS training program.
Students who are entering the CA course from the direct recruitment route after passing the Intermediate of ICSI and ICWA course to take admission in CA Training course must also pass a group of CA Intermediate or both to apply for the articleship. And also have to complete ICITSS training.
AICITSS Training in CA Course
The CA Training course incorporates advanced information technology, management and communication skills in a 15-day program under AICITSS (Advanced Information Technology Soft Skill Integrated Course).
The basic objective behind the training in AICITSS in CA course is to sharpen the hands-on and presentation skills of the students, develop their mutual and leadership skills, by making them understand the business environment and prepare the students for CA or other jobs.
When will this training begin
The training of AICITSS is done during the last 2 years of practical training. But it is necessary to complete it before the final exam. Students can start this training only when they are qualified to take the final exam.
AICITSS fees
The fee for advance information technology training has been fixed at Rs 7500 and for management and skill skills at Rs 7000 per student. In this fee, students will have the facility of tea breakfast during the course material and training.
Industrial CA Training Course
Industrial training is completely optional for students in the CA course. And it is entirely up to you whether you want to do it or not. CA has started this training so that industries can get good chartered accountants. Those from an industrial background and understand about it well. Therefore, this training program has been started for students who want to pursue a career in the industrial sector after becoming CA.
When does CA training start
CA students can apply for Industrial Traning after passing the CA Intermediate Course and completing the final year Practical Traning. According to the guidelines of ICAI, you will have to give this information to the principal for 3 months before starting this training.
Students can do this 9 months and a maximum of 12 months of industrial training with final year Practical Traning.
Students desirous of industrial training can get themselves registered as members of the institute. An associate who has been a member for a continuous period of at least 3 years can train an industrial trainee. In addition, they can simultaneously train one or two trainees who have been appointed as Article Assistant and Audit Assistant.
Tags:
aicitss
,
ca training
,
CA Training fees
,
icitss
,
icitss registration
,
Training in CA Course