ICAI—CAPA JOINT "ROUNDTABLE STAKEHOLDER'S MEETING ON PUBLIC SECTOR FINANCIAL MANAGEMENT
30 March, 2019
0 Comments
---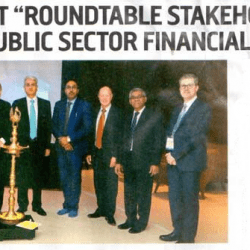 ICAI—CAPA JOINT "ROUNDTABLE STAKEHOLDER'S MEETING ON PUBLIC SECTOR FINANCIAL MANAGEMENT
Source Image – ICAI
The Institute of Chartered Accountants of India in collaboration with the Confederation of Asian and Pacific Accountants organized a joint "Roundtable Stakeholder's meeting on Public Sector Financial Management" in New Delhi on March 11, 2019. The event was inaugurated by Chief Guest Shri Shashi Kant Sharma, Former Comptroller and Auditor General of India  and attended by the delegates from more than 8 countries. The Roundtable gave the attendees an overview of Public Sector in India and the role that the accountancy profession plays in improving its financial management.
CA. Prafulla P. Chhajed. President, ICAI said "This event has brought  together professionals from all arenas including the World bank, ADB, CGA, GASAB. CAPA, Ministry of  Finance, Ministry of Railways. Ministry of Communications and many others. I am certain, this sharing of views and discussions of the leamed participants will aid in empowering financial management in the public sector.
Speaking on the occasion Chief Guest Shri Shashi Kant Sharma, Former Comptroller and Auditor General of India said. "Accountancy professionals have a great responsibility on their shoulders to make sure that public money is utilized in the right manner." He further added "Earlier, India was not even among the 10 major economies but by the turn of the millennium it came amongst the top 10 economies. Today, it is 6th largest economy and most projections show that it will be the 3rd largest economy in the next decade.
ICAI Vice-President CA. Atul Kumar Gupta said, "Accountancy Professionals are fully geared to take up the challenges ahead as they have in the past." He also mentioned "ICAI through its Research wing, Accounting Research Foundation is playing a pivotal role as a Partner in Nation.
icai
,
ICAI ROUNDTABLE STAKEHOLDER'S