CUET TEST: Avoid These Ridiculous Things while Preparing For CUET Test
8 October, 2022
0 Comments
---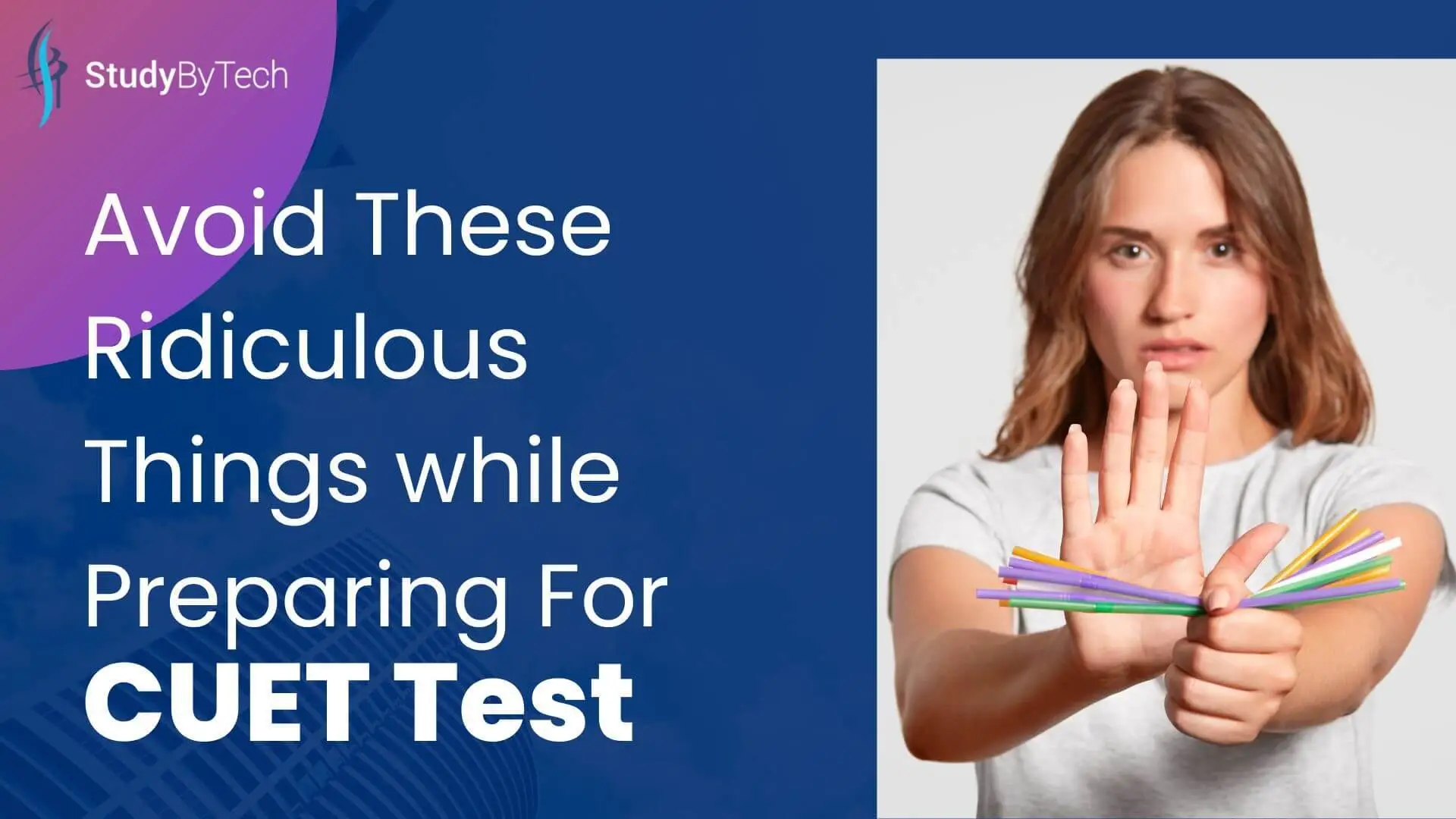 Avoid These Ridiculous Things while doing CUET Test Preparation
For those who are not familiar, the CUET test is an entrance exam for admissions in top universities in India. The test is known to be extremely difficult, and many students spend months preparing for it. While there is no surefire way to guarantee a spot at one of these universities, there are certain things that you can do to increase your chances of success. However, there are also a number of things that you should avoid while preparing for the CUET test. In this article, we will discuss 10 of the most ridiculous things that people should avoid while doing CUET Test preparation.
Importance of CUET
The CUET Exam syllabus covers a wide range of subjects in 3 sections. An all-India test for admittance to different undergraduates, combined, postgraduate, certificate, qualification, and research projects at 45 Central Universities of India is administered by the National Testing Agency under the old name of the Central Universities Entrance Test (CUET).
The scores are also accepted by many other State, Central universities and renowned universities. Students can apply to eligible universities/institutions across the country using the Central University Entrance Test (CUET), which is a single-window application process. Acceptance to different programs at the collaborating universities depends on the CUET score. When applying to either of the main universities, the CUET exam is crucial. This test elevated to the position of prominence, and within a few years it will be of immense importance across the nation.
Also Read:- How to do CUET Preparation without Coaching Classes?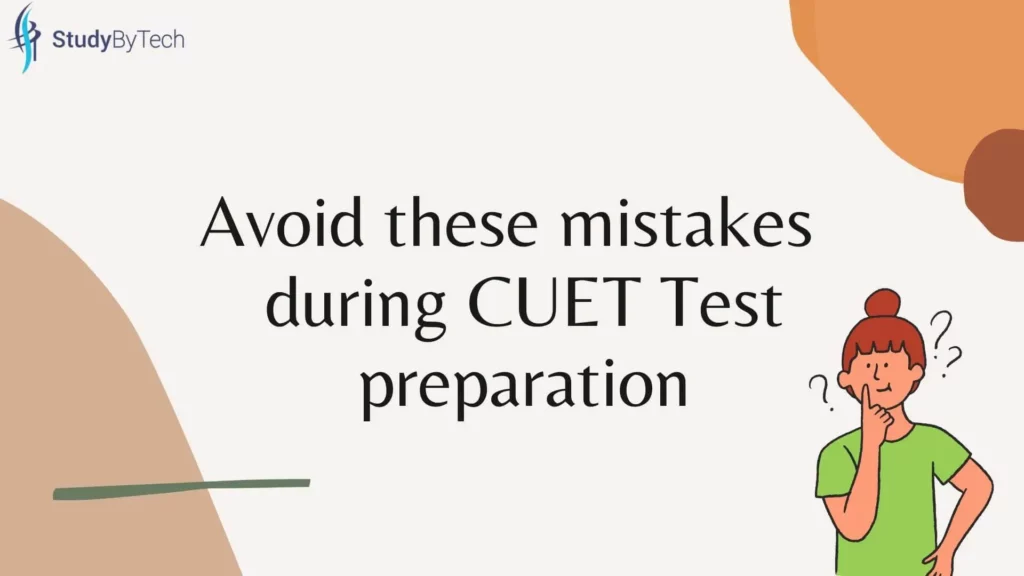 Here are some mistakes which should be avoided during CUET Test preparation:
1) Taking Rumors and Hoping for the Exam to be postponed
The measures of complexity, important subjects, and book suggestions are circulating and become more prevalent as the examination draws near. We must face the fact that nobody can forecast all the exam's specifics. Additionally, this is the initial time that NTA is holding CUET. Students must start studying immediately rather than expecting for the examination to be postponed. To prevent allegations from affecting strategic plans, ignore these types of rumors & keep studying.
2) Avoiding a language/ any subject thinking of it as an easy subject
Giving time to each subject is the best preparation strategy. You should follow a well-thought-out plan to ensure that you are providing proper time for every subject.
3) Using a Variety Of Study Resources
Most individuals have completed their courses by this point and are searching for various forms of review, including mock tests, using model answers, and consulting publications and study material. Various educational websites offer free PDFs. Yet, they could confuse you, and it might end up being a wasted effort. Students should complete one resource completely before moving to another one so that you shall get 100% from one resource. If you open many resources, you will get confused & you are more likely to waste time with no impact on results.
4) Avoiding Easy Math Tricks and Quick Calculations
The subject or topic isn't as challenging as it first seems to be, despite the fact that not everybody is an expert at dealing with numbers. If you are familiar with a few basic math concepts, solving any computation or issue will be simple as pie! When math techniques are acquired, they function like magic to support pupils' academic success and success in more complex levels. As important issues start to surface from the cubes and rounds of the numbers part, math tactics assist you in learning how to resolve issues, and that improves arithmetic talents and comprehension.
5) Reading old events instead of Current affairs
Important political or social issues that are occurring are referred to as "current topics." Many competitive tests include current events questions. They are required to present only the recent 6 months' value of recent issues. There isn't time left to create anything else, as well. Thus, stop reading outdated current events because it would be a waste of time.
6) Too Much Time Spent on One Question
Dropping queries that you can't immediately respond to in your paper can make a huge difference. You should thus be adept at leaving queries right away. Let's take the scenario where, despite our best efforts, we remain unable to respond to a question that can be answered after five minutes. Students should immediately set it aside and continue onto the following question, with the awareness that first we should answer questions in which we are 100% sure, then we should move forward with other questions in which you need to apply logic & brains. Never think you can figure out the solution by giving the topic two more minutes of thought.
This could mess with your rhythm for the questions. Students could be capable of figuring that out within the next 2 minutes, but shouldn't devote those two minutes max until you've completed all the possible questions you know.
7) Making an Effort with The Mathematical Questions First
If students are comfortable with the CUET curriculum, try the GK, current events, and logic parts first within about 20 to 25 minutes. Spending the next 20 to 25 minutes on the numerical component of the paper. Spend the final ten minutes going over the questions and answers. Individuals must not spend more than 45 seconds on a topic that they can understand or are unsure of. Even if you understand how to get the solution, solving numerical issues takes time. But if you know about common information and current events then you can respond in a matter of seconds to questions. So first complete the current affairs and language part of questions & then proceed to domain questions.
8) Execution vs planning
Every student aspires to have a plan that will enable them to study for their examinations as possible. Few others can, though, do the same thing. The easiest element of planning is also the simplest to think upon. Execution is crucial, so pay close attention to that. Setting growth targets for learning is necessary, but it's crucial to stick to them. Ignorance is not accepted. Each student needs a strategy for how to approach this kind of exam preparation. While making a strategy is critical, they also must keep in mind that implementation is as crucial. Setting daily academic goals is encouraged, but it's crucial to stick to the timetable.
Also Read:- 7 Tips To Overcome Distraction And Ace CUET PG Exam
9) Failure to comprehend the curriculum
One becomes very perplexed when there are too many references and professional discussions. Knowing the curriculum is crucial for the CUET. No matter the organization one is registered with for class 12, it is important to be aware that the CUET examination curriculum is founded on NCERT. It's not a good idea to disregard the curriculum. One can become confused about what to expect from the curriculum and what to avoid if there are too many materials and professional discussions.
The syllabus must be understood to pass this typical university test. No matter the board one is registered with for class 12, it is important to be aware that the CUET exam curriculum is centered on NCERT. The NCERT course doesn't adhere to any board format, unlike CBSE, where some portions of the coursework were cut to better prepare students for the exam. To pass the examination, students should master all subjects covered in the NCERT class 12 books.
10) Rote learning
As a result of how they have been judged in board exams, many pupils have developed the habit of memorizing material. CUET test will be a multiple-choice exam and is a competitive test. Given the time restrictions, it is important to comprehend the emphasis on knowledge acquisition. There is a good risk that someone will forget about the subject if they don't make an effort to grasp it. Students should keep in mind that the CUET is a rigorous test and will consist of multiple-choice questions. Students must comprehend the emphasis on information implementation given the time limit. If one doesn't make an effort to comprehend the subject, there's a good probability they'll forget it. It will be preferable if you concentrate on the topic and the thorough comprehension of it rather than on rote memorization.
11) Ignoring practice exams
Some students avoid taking practice exams out of concern for their performance or out of the notion that the curriculum must be finished first. One needs to comprehend that mock exams are a tool that assists at every step of preparations and helps identify both the capabilities and the shortcomings, which can be corrected with appropriate help if identified early. Mock exams are often not taken by students. A few of them feel that the curriculum must be finished first because they are afraid of doing or starting late. These pupils need to be informed that mock exams are a tool that may be used at all stages of preparation. By taking a practice exam, you may assess your level of readiness for test day and determine which ideas you have to review more than others.
12) Simple diversion
Making the error of being sidetracked and disoriented is prevalent. One learns that for an 8-hour study schedule, the actual time spent was only about 4-5 hours. Given the limited time as CUET is a month after several students' board examinations, binge watching, which often starts with an information search, must be stopped whenever possible. The CUET will reduce stress, but it also assures that there will not be an excessive number of contingency systems, unlike in the past when one might take several entrance exams for various colleges and universities and may have improved by using the information from the last one. The CUET test is one opportunity to enter one's ideal institutions, so the preparation strategy must allow nothing to chance.
13) Knowledge about the Exam Pattern–
Most individuals do not comprehend the exam schedule and wind up learning the wrong material for the test, which could end up costing them a lot of money in the long run. The CUET test curriculum is likewise based on the NCERT books for the 12th grade. So, pupils must certainly prepare themselves to study in a planned manner taking into consideration the exam pattern.
Conclusion
Thus, be sure to tackle these challenges by minimizing all the blunders listed to achieve a high rank and gain admittance to each of India's top universities. Practice frequently, increase your speed, adhere to the curriculum, use only study materials from reliable sources, and ignore misinformation. Start preparing right away if you want to be around the winners. Avoid duplicating other people's techniques because they may not be effective for anyone and won't be of any value to you. Avoid falling prey to preconceptions at this critical juncture in your CUET test preparations. NCERT books are helpful for passing the CUET test, but they shouldn't be your only source of information. Applicants must employ additional study tools, such as previous exams, mock tests, and online resources, in contrast to NCERT texts. When studying for professional tests like the CUET test, NCERT books are a great resource. It is because, instead of requiring you to recall facts or figures, the majority of the problems on such tests check comprehension of fundamental ideas.
Along with the mistakes described above, students commit the following ones when preparing for competitive tests like the CUET:
Ignoring crucial guidelines, techniques, and formulas
Not understanding the CUET curriculum and exam structure
Not taking CUET Mock Tests: Download a complimentary PDF of the CUET Mock Tests
Not having the right direction
Not comprehending the questions properly before responding
FAQs
Q. Is the CUET UG exam really tough?
A. It is not sufficient to simply create a calendar or study plan for your CUET UG preparation. It's crucial that you adhere precisely to this programme.
Q. How many attempts are there for CUET?
A. There are no such boundaries. The exams can be taken unlimited time as long as the students are eligible for the exam.
Q. How will CUET (UG) be beneficial to a student?
A. Applicants for Class XII do not need to prepare for CUET , as it will be centered on the curriculum for that grade. Applicants in CUET have a variety of options, including There are 27 disciplines, 33 languages, and a general test available. By the specifications of the university where admission is pursued, they might choose the Subject, Language, or General Test of their choosing. They may also select any of the 13 languages listed there for the test's medium.
Q. How can my CUET PG preparation improve?
A. The students should plan a study schedule that prioritizes conceptual comprehension and practicing questions from challenging areas. They should also allot enough time for completing Mock Tests and Practice Papers to improve CUET PG preparation
Q. How to do Step Wise preparation for CUET Exam
A. Step 1: Go over the CUET syllabus in detail.
Step 2: Understand the CUET exam pattern and marking scheme and prepare accordingly.
Step 3: Get all the study material for CUET such as prep books and previous years question papers to perform better in the exam.
Step 4: Create an effective monthly timetable on how much material to cover on a daily basis.
Step 5: Solve question papers, sample papers, and mock tests on a daily basis.
Tags:
cucet
,
cuet 2023 test
,
CUET TEST
,
cuet test date
,
cuet test preparation