CA Foundation Maths Syllabus 
22 December, 2022
0 Comments
---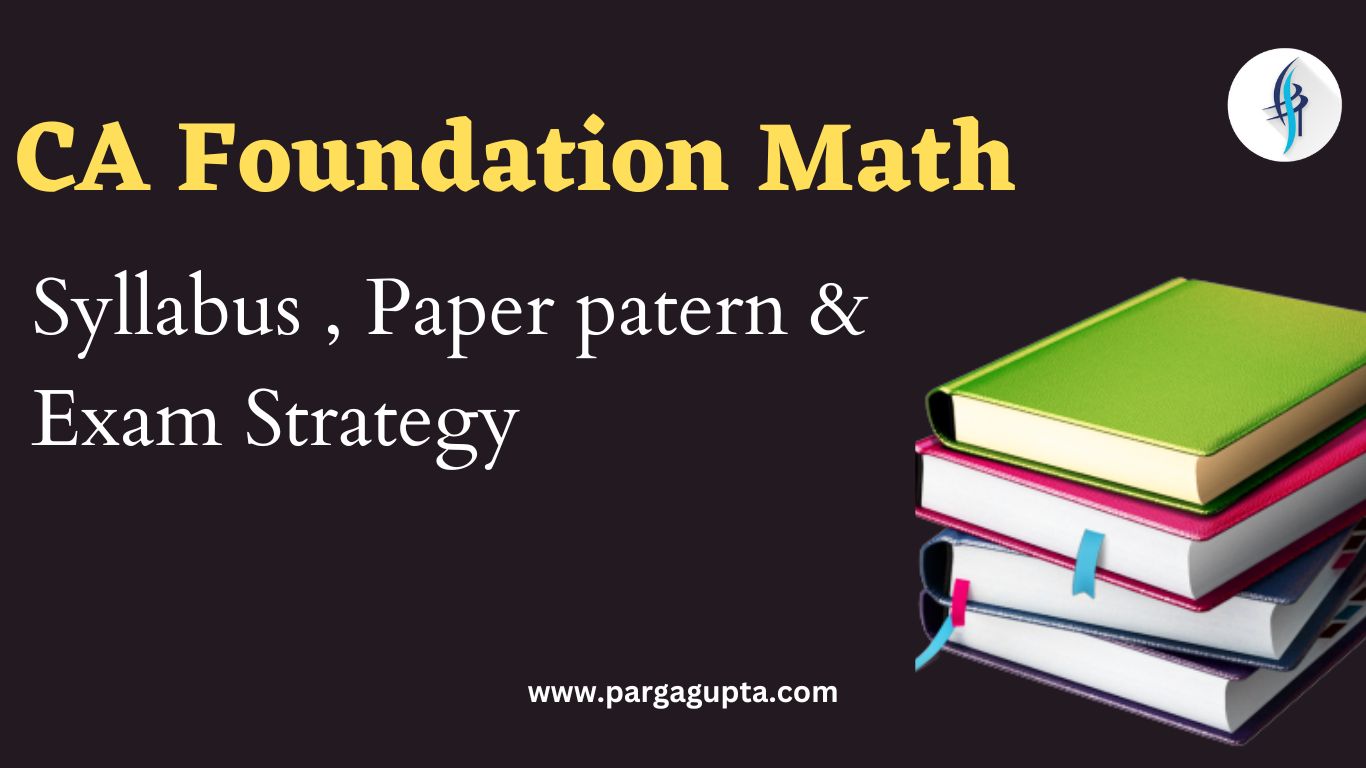 CA Foundation Maths is the third paper in the CA Foundation course. (CA Foundation Maths) The mathematics section of the CA Foundation examinations is more challenging than the other sections. Students all throughout the world are very interested in becoming chartered accountants. Clearing all three stages of the CA Foundation, IPCC, and CA Final exams, which are offered by the Institute of Chartered Accountants of India (ICAI) and are among the toughest examinations in the world, is the initial step in developing a career in this field in India. The CA Foundation exam is the first step in the Chartered Accountancy Course. There are a total of four papers, including two subjective and two objective ones.
The CA syllabus was changed in 2017 by the ICAI, which also added new course materials for the CA Foundation, CA Intermediate, and CA Final exams. Some exams from all three different levels are combined, while others are removed from the new CA curriculum for 2023. Additionally, the new structure reduces the length of the CA articleship from three to two years.
CA foundation exam
The CA Foundation Exam is a professional certification examination conducted by the Institute of Chartered Accountants of India (ICAI) for individuals seeking to become Chartered Accountants in India. The exam is conducted twice a year, in May and November, and consists of four papers:
Principles and Practice of Accounting
Business Laws, Ethics and Communication
Business Mathematics, Logical Reasoning and Statistics
Business Economics and Business and Commercial Knowledge
To be eligible to take the CA Foundation Exam, candidates must have passed Class 12 or an equivalent examination with a minimum of 50% marks in the aggregate. They must also have completed a certain number of hours of study in an approved course.
Candidates who successfully pass the CA Foundation Exam are eligible to pursue the next level of the Chartered Accountancy course, which consists of the CA Intermediate and CA Final exams are called ca foundation exam.
ICAI CA Foundation Maths Paper Pattern
| | |
| --- | --- |
| Name of the Exam | ICAI CA Foundation |
| Mode of Exam | Offline |
| Medium of Exam | (Section B of Paper 2's requirement for proficiency in English |
| Maximum score | 400 (100 per paper) |
| Negative marking | For each incorrect response to an objective question in Papers 3 and 4, subtract one-fourth of a mark. |
| Type of questions | Paper 1 and 2- Subjective Paper 3 and 4- Objective |
| Passing criteria | 40% marks per paper 50% marks overall |
Business mathematics, logical reasoning, and statistics in CA Foundation Maths Paper 3
In CA Foundation Maths Paper 3, business mathematics, logical thinking, and statistics
Business Mathematics (Part A) (40 Marks)
Ratio and proportion, as well as indices and logarithms
Linear inequalities with objective functions Optimization with regard to Matrices and Equations Goal; Time Value of Money; Combinations and Permutations; Objective
Relations, Sets, and Functions; Series and Sequence;
Simple uses for the calculus of differences and integrals.
so these are CA foundation maths paper 3.
Logical Reasoning (Part B): 20 Marks
Orientation tests
Seating arrangements
Relational ties
Coding & decoding
Numerical series
the odd man out.
Statistics (Part C) (40 Marks)
Index Numbers and Time Series
The statistical representation of data,
Measures of central tendency and dispersion,
Probability,
Theoretical distributions,
Regression and correlation index numbers,
Time-series data
Weighting of Business CA Foundation Maths in May 2023
ICAI changed the way the marks were weighted for CA Foundation maths Paper 3. Exams in May/June 2023 will be affected by the modifications. Students in the CA Foundation program may obtain a topic-by-topic breakdown of the law paper's grade distribution. For the CA Foundation course, the ICAI published section- and skill-specific mark distributions.
The Board of Studies (BoS) of the Institute of Chartered Accountants of India (ICAI) has provided chapter-by-chapter weightage of marks in CA foundation maths Paper 3 Business Mathematics, Logical Reasoning, and Statistics. With the use of this feature, foundation students could organize their study plans in preparation for the upcoming ICAI exams.
Business mathematics in Part A (40 Marks) Section-I (20% to 30% weight), which is (CA Foundation Maths)
Ratio and Proportion, Indices and Logarithms
(i) Laws of Indices, Exponents, Logarithms, and Anti Logarithms, Ratio and Proportion, and Business Applications to Ratio and Proportion Problems.
Uneven distributions in a single variable, as well as the best possible solution.
. Equations and Matrices
(ii) Equations: Linear, simultaneous linear equations up to three variables; quadratic and cubic equations in one variable.
(iii) Matrices: Algebra of Matrices, Inverse of a Matrix and determinants, solving system of (Cramer's rule) involving not more than three variables equations using matrix method Linear inequalities: inequalities in one variable, the optimal solution, and the solution space. Section-II (Weightage 30%-40%) i.e.. 12-16 Marks
Time Value of Money
i) Simple Interest
(ii) Compound interest and annuity applications,
(iii) Perpetuity
(iv) Depreciation
(v) Effective Rate of Interest
(vi) Present Value
(vii) Returns are calculated using the following formulas: (a) Nominal Rate of Return (b) Effective Rate of Return (c) Compound Annual Growth Rate (CAGR)
Section-III (Weightage 30%-50%) i.e. 12-20 Marks
Permutations and Combinations
the factorial, introduction, circular permutations, restricted permutations, and combinations with predetermined results. Introduction to the Series and Sequence Series, progression in arithmetic and geometric terms, AM, GM, and the sum of the n terms of special series are related. Relations, Sets, and Functions Calculus of differences and integrals fundamental applications (Excluding the trigonometric applications) Applications of Marginal Revenue and Cost, etc., Part B: Logical Reasoning (20 Marks)
Section-I (Weightage 60%-70%) i.e. 12-14 Marks
Odd man out, number series coding, and decoding
Section-II (Weightage 30%-40%) i.e. 6-8 Marks
Blood Relations Syllogism
Part C: Statistics (40 Marks) Section-I (Weightage 45%-50%) i.e. 18-20 Marks
Data Representation via Statistics, Data Visualization, Frequency Distribution, and Frequency Distribution graphically represented using histograms, frequency polygons, ogives, and pie charts. Mean, Median, Mode, Mean Deviation, Quartiles and Quartile Deviation, Standard Deviation, Coefficient of Variation, Coefficient of Quartile Deviation are all measures of central tendency and dispersion.
Section-II (Weightage: 25%–30%) i.e. 10-12 Marks
Probability: independent and dependent events; occurrences that can never occur together. Probability, both simple and compound, Bayes' theorem, and mathematical expectation Distribution in Theory: Basic applications for the binomial distribution, poisson distribution, and normal distribution may all be found here.
Section-III (Weightage: 10%–15%) i.e.. 4-6 Marks
Correlation and Regression
Karl Pearson's Coefficient of Correlation with a scattergram Regression coefficients, Regression equations, Regression lines, and Rank Correlation.
Section-IV (Weightage 10%-15%) i.e. 4-6 Marks
Index Numbers and Time series
(i) Index Number Uses, Index Number Construction Issues, and Index Number Construction Techniques
(ii) Basic use of time series analysis with the moving average method
CA Foundation Batch I Classes at Parag Gupta- Click here
Some pointers to help you pass the CA foundations math paper exam
this is the link of CA foundation maths exam click here Top 5 Revision Strategies To Study Smarter For Upcoming Exams. Make a significant investment of time and effort into taking practise exams will expose you to a range of questions and better prepare you for the exam. Additionally, do your best to respond to as many of the questions from the revision exam papers as you can because this will help you identify your strengths and shortcomings. Also, allot time to complete MCQ-based exams, especially those in math and economics, which have high passing rates.
Create your schedule:
Schedule all activities at least 15 days in advance. Allow at least five days for each subject to be spread out over a number of days, and spend up to 12 hours studying on each of those five days. Depending on the length, significance, and level of difficulty of each chapter, decide how much time you will spend on it. On the main page of the textbooks or other study materials, students might write down how many hours they should devote to each chapter.
Stick to the learning resources:
In the last days of preparation, stick to the study resources you've been using from the start and avoid selecting resources you aren't familiar with. Refer to the most recent study resources rather than the older ones, and if necessary, supplement the regular course materials with ICAI study materials. Every other year, the curriculum is revised. So always be updated.
Take breaks from studying:
Watch a stand-up comedy or listen to music to relax and cleanse your mind instead of spending time on potentially seductive social media. You should take a nap in the afternoon to break up the monotony of long study sessions and to relax. It increases our levels of energy and focus. Keep notepads and important points for each topic available. It's normal for individuals to forget things. Please don't worry. Instead, jot down the key ideas from each chapter of the book you're reading. You have 24 hours to study for the exam, of which 12 to 14 hours can be used effectively to study. Things will start to make sense once you read your notes and key points.
Know your areas of strength:
In the areas where you excel, put forth a concerted effort to get better. If a student does well on at least two topics and receives an 85 or higher in each subject, they can obtain a rank. Create your own study strategy rather than adopting someone else's. At least two revisions should be done. Students only have 15 minutes to read the question paper, so don't waste it on one question. So, within those 15 minutes, make a note of the inquiries you are most familiar with and attempt to respond to them first. The rest can be finished later. If you are unable to answer a certain question, move on to the next one.
Do not overstress yourself by reading a lot right before the exam. Instead, keep your cool. Let the knowledge you have already acquired come back to you. The crucial details and an overview of the cases' logic can be reviewed by students the day before the exam. Also, after you get home, avoid reading your exam paper or checking the answers. Rather than studying for the next test, you can unwind by eating well and getting enough sleep.
FAQs
Q1. How many courses make up CA Foundation?
A. Candidates interested in becoming a CA must achieve success in the CA Foundation stage.To advance to the second level of the CA Exam, applicants must pass the four major subjects that make up CA Foundation.
Q2. Does the CA Foundation Exam have any negative marking?
A. Yes, there are negative marks on the CA Foundation exam. One incorrect response subtracts one-fourth of a mark from the final score. Therefore, just respond to questions you are comfortable with.
Q3. Is CA foundation exam a challenging task?
A .The CA foundation preparation process is labor-intensive, but nothing is impossible. The benefit of the CA foundation is that it does not require a competitive test, only a particular threshold. Thus, you are free to relax and focus only on what you must accomplish to pass this exam.
Q4. How many tries are permitted for the CA Foundation maths paper?
Applicants have a three-year timeframe to apply for and take a maximum of six exams.
A. No, the CA Foundation syllabus has not changed as of yet. The CA Final syllabus has, however, undergone some modifications.
Q5. Can I still do CA if my math skills are poor?
A.Different students find various subjects challenging. In contrast, passing CA Foundation Maths Paper 3 on "Business Mathematics, Logical Reasoning, and Statistics" is considerably more difficult.
Q6: Is math important in CA?
A. No, the answer is not affirmative.Students who currently enroll in or have already completed their 10+2 in commerce or any other stream without math as a subject possess somewhat equal eligibility to pursue CA.
Q7. What are the 10 Quick Tips for Successful CA Foundation Exam Preparation?
A. Give yourself adequate study time -Create a study plan that works…
Tags:
Ca Foundation Maths