ICAI CA CPT, IPCC & CA Final | CA Online Classes
30 March, 2019
0 Comments
---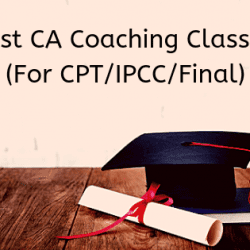 ICAI CA CPT, IPCC & CA Final | CA Online Classes
ICAI CA Online Classes Benefits
1. Versatile Timings – Definitely, CA Online classes is a good option. Students can enjoy ICAI CA Classes (CPT/IPCC/CA Final) at home whatever time is best suitable for them. Many of the ca students doing an articleship/job along with the studies prefer to take the ICAI ca classes at night. For such kind of ca students, ICAI CA Online classes are the best option.
2. Comfort level – You comfort with study at home. You can pause the videos, you can replay the video, you can rewind the videos, you can adjust the speed of the video. No need to follow the rules and regulation of satellite classes.
3. Time-Saving – One of the best points of ICAI CA Online classes is that it saves time. Most of the ICAI ca students residing in other cities or far away from the ca coaching centers (CPT/IPCC/CA Final) can get benefit from these ca online classes.
4. Replay the Concept of video – Many of the times we miss the important concepts. You could not ask such a thing in satellite classes. Hence, CA online classes are better where you can replay the video and understand the vital concept until you are not satisfied (CPT/IPCC/CA Final).
5. Missing classes Problem – It's difficult to understand the whole chapter when you missing a single class. CA Online Classes resolves this issue by providing video lectures according to your convenience (IPCC).
Why Choose Parag Gupta Classes (CA Final)?
Parag Gupta Classes is the best ICAI CA Coaching Classes (IPCC) all over India because it provides classes in Virtual Centres or in their app StudyByTech. It covers every concept of your ICAI ca course.
Parag Gupta Classes have covered past attempt questions, questions from study material, questions from Practice Manual ,etc. Which means that you don't need to go through the ICAI for ca study material on your own.
Parag Gupta Classes smart compilers will also be provided to every ca student along with ICAI CA Online classes. The students will get connected on all social media platforms of the faculties where they can ask their doubts. All the lectures are available in Hindi and English Language (CPT/IPCC/CA Final) .
Procedure for Joining the Best ICAI CA Online Classes
Contact Parag Gupta Classes and complete the registration procedure for ICAI CA Online classes.
For the first time, Parag Gupta Classes launched ICAI CA Foundation / CPT Online Classes (CPT/IPCC/CA Final)
For ordering and further information on ICAI CA Foundation/CPT Online classes (CPT/IPCC/CA Final), you can contact us.
Subjects of ICAI CA Foundation/CPT
Paper 1: Principles and Practices of Accounting
Paper 2: Mercantile Law and General English
Paper 3: Business Mathematics and Logical Reasoning
Paper 4: Business Economics and Business Commercial Knowledge
Subjects of ICAI CA Intermediate/Inter/IPCC
Paper 1: Accounting
Paper 2: Corporate Laws and Other Laws
Paper 3: Cost and Management Accounting
Paper 4: Taxation
Paper 5: Advanced Accounting
Paper 6: Auditing and Assurance
Paper 7: Enterprise Information Systems & Strategic Management
Paper 8: Financial Management & Economics for Finance
Subjects of ICAI CA Final
Paper-1: Financial Reporting
Paper-2: Strategic Financial Management
Paper-3: Advanced Auditing and Professional Ethics
Paper-4: Corporate and Economic Laws
Paper-5: Strategic Cost Management and Performance Evaluation
Paper-6A: Risk Management
Paper-6B: Financial Services and Capital Markets
Paper-6C: International Taxation
Paper-6D: Economic Laws
Paper-6E: Global Financial Reporting Standards
Paper-6F: Multidisciplinary Case Study
Paper-7: Direct Tax Laws and International Taxation
Paper-8: Indirect Tax Laws
Also Visit here– How to become a CA in India after 12th?
Tags:
CA Final
,
CA Online Classes
,
CPT
,
icai
,
IPCC