When should you start studying for CA Final SCMPE & Law for Nov 23 exams?
7 December, 2022
0 Comments
---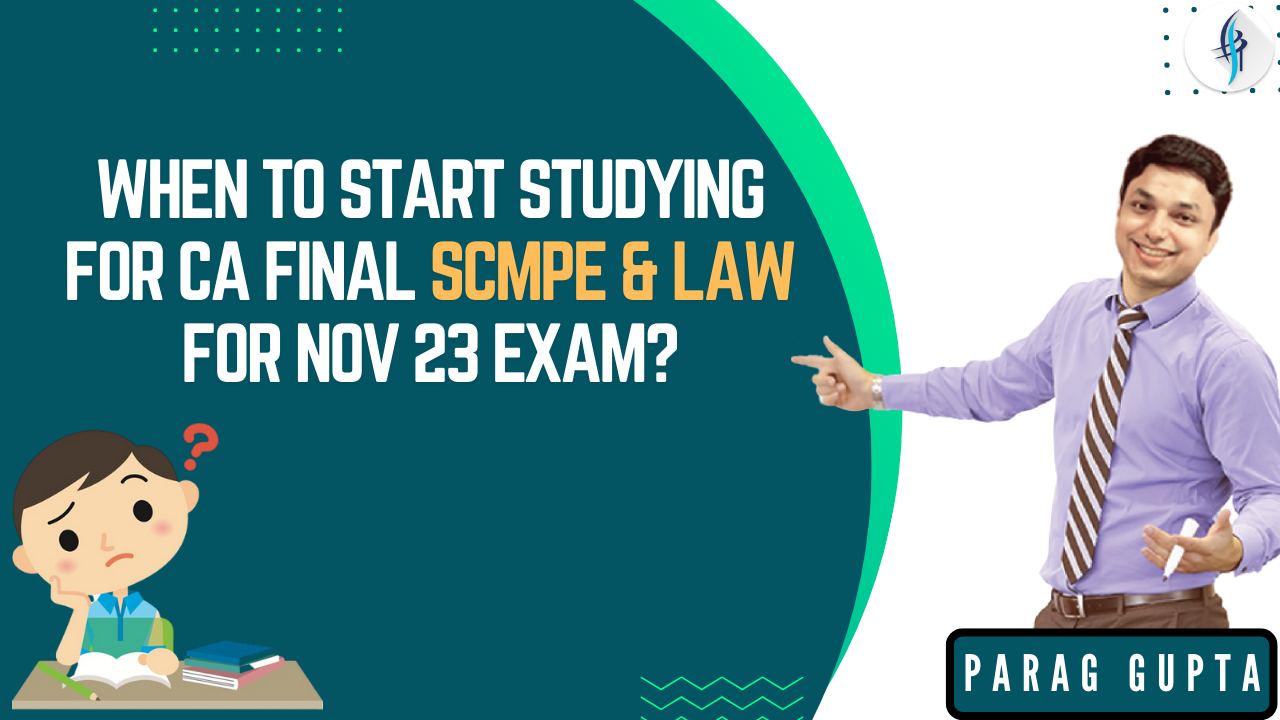 A new syllabus for chartered accountant students is proposed for CA Final level, especially for SCMPE & Law by the Institute of Chartered Accountants of India (ICAI). The proposal is sent to Ministry of Corporate Affairs for approval.
It is expected that the exams may become harder, as a result, making it more difficult for candidates to pass them.
ICAI proposed changes in CA Final Syllabus
A new program of online modules in the CA final syllabus that can be finished at one's own pace has been introduced by the ICAI. The CA Final syllabus and subjects are published by ICAI on its official website. When one registers for practical training, also known as articleship, before the Final, the modules must be completed following Inter.
In the SCMPE CA Final syllabus two papers here supposed to be shifted from the Final to the self-paced online module:
Evaluation of performance and strategic cost management SCMPE CA Final;
Economics and laws paper.
To Know more about CA Syllabus, Click Here
When to start studying SCMPE & law for the Nov'23 CA final exams?
Many students confuse about when to start studying for SCMPE & Final Law for Nov 23 exams. So here, we would like to answer this question through Parag sir's reply.
As many questions prevail around this confusion, like,
1. Will these papers become self-paced papers, or
2. Will the Ministry of Corporate Affairs shift the date for the next attempt?
3. Or will these papers will be back as normal paper?
Well, as the ministry thinks in 50 different ways, so we cannot say anything. But definitely, any of the 3 above suggestions can be possible. Eg. If the ministry will feel that these papers are important and shall not be taken as self-paced, then they may be back as normal papers as well. So it is suggested that in all the above scenarios, you all shall keep studying hard for exams.
Watch out Parag sir's suggestion for students who are studying for CA final Nov 23 exams:
To know more about CA Final costing latest batch, Click Here
To buy CA Final Costing books, Click here
Complimentary offer for students: 30 hours of FREE access to CA final costing latest batch on the mobile app, where students can watch any part of the course within these 30 hours.
Conclusion:
The Ministry of Corporate Affairs thinks in all different manners to make the SCMPE CA Final course a better course in both practical & theoretical knowledge for students. The changes in course always welcome. But take care that students shall not stop studying and keep focused on their studies in order to get his/her dream true.
FAQ
When should I begin preparing for the SCMPE?

Well, after their 4-5 month break begins, the majority of CA candidates begin their SCMPE study. However, the majority of candidates also fail the SCMPE. Make every attempt to begin CA Final preparation three to four months before your leave of absence.
Does the 2023 SCMPE CA Final syllabus change?

Prior to that, in 2017, the ICAI updated the CA Final syllabus and offered new course syllabi for CA Foundation, CA Intermediate, and CA Final. Some papers from all three levels are combined, while others are dropped from the revised CA Finals syllabus 2023. The CA articleship time is also shortened in the new plan.
What is the deadline for registering for an articleship in November 2023?

By registering through Direct Entry by July 31, 2022, or January 31, 2023, you can begin your articleship right away and finish your 9 months of practical training in order to be qualified to sit for the CA Intermediate examination in May or November of that year, respectively. Can I sign up at any time? What time did registrations start?
Tags:
CA Final
,
CA Final Costing
,
CA Final exam Nov'23